• Adventures • Children's books • Dartmoor • Dartmoor Ponies • Dream • Horses • Inspirational • Ireland • Live your dream • Moor • Riding by Faith • Scotland to Land's End • Southern Ireland • Tracey Elliot-Reep • Treks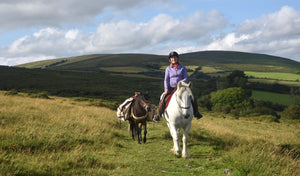 Here I am riding Callum my Highland Callum who I rode from the top coast of Scotland to Land's End and around Southern Ireland, while leading Raindrop my pack pony. I bred Shilstone Rocks Raindrop four years ago and she is enjoying coming along- in training for the longer treks!
---
• Adventures • calendar • Children's books • church • Dartmoor • Dartmoor Ponies • Dream • Europe • Faith • flowers • foal • galloping • Horseback • Horses • Inspirational • Live your dream • Moor • Photographic book • Widecombe in the Moor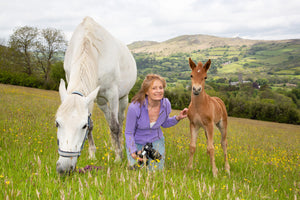 This short clip is about Ruach the promised foal, who Yoanna my mare gave birth in late May. Several years ago I travelled with Yoanna and Ermis, two ponies I bought near Athens across Greece, northern Italy, over the European Alps through Switzerland and then south through 
France, over the Pyrenees and across Northern Spain to Santiago and Finistere. I promised them I would take them home to the green grass of England and against the odds, I got them home to Dartmoor, but as I had no grazing I loaned them out. I had no idea Yoanna was in foal and months later she had a surprise foal which sadly died. I promised her when I had land I would let her have another foal. Ruach is her promised foal.
---
• clouds • Dartmoor • Dream • Moor • rainbow • Tracey Elliot-Reep • Widecombe in the Moor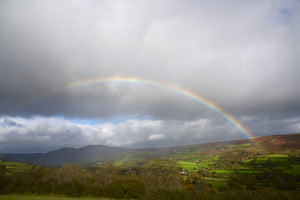 I love to catch the rainbows which frequently appear on Dartmoor through my camera lens. I was born and grew up on Dartmoor, and have been enjoying photographing its ever changing atmospheric moods for over 30 years. The wonderful clouds sweeping over the landscape often bring rain and wonderful rainbows, which always adding that extra special divine touch!   I also have a Dartmoor pony called Rainbow and she a set of books for children called "Rainbow and her Farmyard Friends" Each of her seven friends has their own story in the seven colours of the rainbow!     
---
• Dartmoor Ponies • Dream • Vision
My Dartmoor Ponies give me so much pleasure! I bred them and now I am training three of them to be ridden. Most of them are out of my one Mare, which my mother gave me many years ago called Shilstone Rocks Rainstorm. Hence I have called her foals... Rainbow, Thunder, Lightning, Raindrop and Talia (meaning dew from heaven). She has another on the way this month!
I struggled through school with severe dyslexia and now I want to encourage other children who are struggling with handling and riding my ponies. to show them that despite their obstacles they can still reach for and live their dreams.