• Adventures • calendar • Children's books • church • Clapper Bridge • Dartmoor • Dartmoor adventure • Dartmoor bluebells • Dartmoor Ponies • Dartmoor whiteface sheep • Faith • flowers • foal • Great Staple Tor • Heather • Horseback • Horses • Inspirational • Moor • postcards • River Dart • sheep • Snow • springtime • Tracey Elliot-Reep • Vision • Watern tor • Widecombe Green • Widecombe in the Moor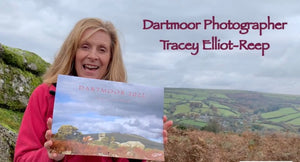 Hello!  Here I am above Widecombe-in-the-Moor showing my Dartmoor 2022 Calendar. Click on read more to watch the short clip, when ordering more than one be sure to click on the correct  button underneath the calendar to get your discount! Thank you for your support! :)
---
• Adventures • Burrator • Clapper Bridge • Dartmoor • Dartmoor Ponies • Faith • Great Staple Tor • Horseback • Horses • Inspirational • Moor • River Dart • River Swincombe • Tracey Elliot-Reep • Treks • Vision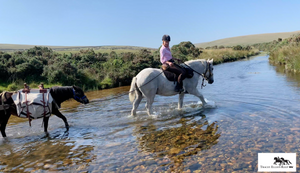 Tracey Elliot-Reep Dartmoor International photographer, author and motivational speaker makes a six day journey across and around Dartmoor with a friend and her Highland and Dartmoor ponies. This is Day 2 leaving from the old clapper bridge at Dartmeet, crossing the West Dart to Holne Moor, to Hexworthy and then crossing over the River Swincombe, following along some ancient routes to Burrator Reservoir.
---
• calendar • Children's books • church • Clapper Bridge • clouds • Dartmoor • Dartmoor bluebells • Dartmoor Longhouse • Dartmoor Ponies • Dartmoor whiteface sheep • flowers • Great Staple Tor • Hameldown • Horses • Moor • On The Farm • postcards • River Teign • sheep • Snow • snow fall • Snow plough • springtime • Tracey Elliot-Reep • Watern tor • Widecombe Green • Widecombe in the Moor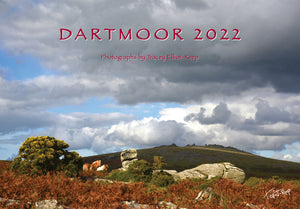 My Dartmoor 2022 Calendar is now available! ( It is a 13 month calendar as people often remark how useful it is to have the extra following January to plan ahead.)  the calendar comes with an envelope for sending and 4 postcards !Please see my special offers for orders of two or more on my website.